The stealthiest member of the Backstreet Boys, Howie D. is a man after your heart — and you'll never see it coming. Always suave and debonair, for nearly 23 years, multiple fans have been catching CHDS, or Chronic Howie D. Syndrome. As sneaky as he is, you won't even realize you've been affected until it's full force. One day, you think you have CNCS (Chronic Nick Carter Syndrome), but then you realize it's really the Howie you've been hooked on. Need to diagnose yourself? Let us help you.
1. A Wink Sends You Into A Frenzy.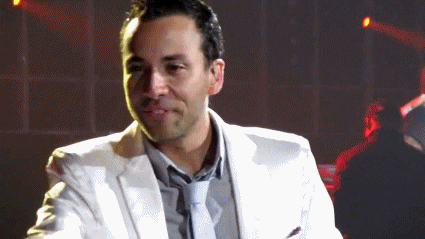 That grocery store guy that winked at you after telling you a joke last week was probably innocent and didn't even think about his actions, but that wink had you in your car with the AC on full blast for 3 minutes because you have Chronic Howie D. Syndrome. Those with CHDS are conditioned to melt anytime a man winks at you, involuntary twitch or not. Sweet D and his affectionate eye message have gotten to you since DAY ONE and now you'll never recover. Wink, wink….and you're instantly thinking about marriage.
2. A Man That Isn't Sharply Dressed? Forget About It.
Sweats and holey t-shirts? Not for you. Every girl's crazy about a sharp dressed man and those inflicted with CHDS settle for no less than a man looking like he came straight from a catalog ala Howie D. Show me a moment where Howie looked less than put together and I'll show you a picture of bald Kevin (it doesn't exist – that's my point).
3. You Learned How To Party From Howie.
While most people have "that one friend" who they learned to party with to all hours of the night, chronic Howie D. patients know that their partying ways came straight from the object of their affections. Master of ceremonies, afterparties, late night cruise parties and anything involving party, you've stayed up till the wee hours of the morning with Howie at some point in your fan life. And you have no regrets. And you'll do it again.
4. You Crave Some Subtle Salsa.
Don't act like you don't know. The pelvic thrusts by the other four Backstreet Boys are great and all, you LIVE for the moments in the concerts when Howie gets into his rhythm. By his rhythm, we mean freely moving about with those hips and that ass. In fact, if you truly have CHDS, you're probably not even reading this – you're staring at the above gif. So I'll just stop here.
5. You Like Stealthy Ninjas.
Dates with boys who are obviously going to steal your heart just don't do it for you. You like men who creep in and steal you away, just as Howie has done. Most with CHDS didn't choose this life, it chose them. Whether it was the long hair, the short hair, the secret sense of humor, the Yoda-like wisdom, or the fact that he kept bromancing your other favorite Boy until you switched lanes, Mr. Dorough crept in your heart to live and gave you the syndrome before you could stop it. It's smooth and it's incurable.
6. You've Grown The Biggest Soft Spot For The Sweethearts.
We all know Howie has the biggest, sweetest heart and as someone with CHDS, you only accept the most kind-hearted of people. You're addicted to him because he's everyone's best friend, he's fun, and he's hot as fire. Eventually CHDS will affect everyone in the world and really, who are we to stop it?