Brian Littrell has been many things in his life, but every one of his fans can agree that he has been an inspiration to all of us. Looking at his life, it's been a story of health triumphs, balancing faith, fame and family and turning the negatives into positives. If you ever need proof that a man can achieve great fame and keep both feet on the ground, Brian is one of them.
1. The Healthy Heart Club For Kids.
It is no secret that Brian was born with a congenital heart defect that kept him in the hospital (and nearly killed him) when he was a child. In 1998, at the rise of the Backstreet Boys' popularity, he underwent open heart surgery to repair a hole in his heart. However, in true Brian fashion, he used the terrifying situation to help others and founded the Healthy Heart Club For Kids. This foundation, opened just before he underwent surgery, would help kids with heart disease and other health issues. Brian implored fans, in lieu of get well gifts, to donate to the charity and in 1999, funding began an innovative program of education, rehabilitation, exercise and motivation for children ages 6-16 with congenital heart problems, as well as those who are at risk to develop heart problems. The charity went on to change many families lives for years after all because of Brian and his giant repaired heart.
2. A Leap Of Faith — Down To Orlando. 
In 1993, Brian was 18 years old, sitting in a history class in his senior year of high school with a scholarship to a Bible college. He was a normal teenager in Kentucky with an incredible voice and a cousin in Orlando. We all know how the story ends – Brian hops a plane to Florida (because everyone does what Kevin asks them to do usually), auditions for the Backstreet Boys, and the rest is history. What Brian doesn't know, is that 22 years later, several hundred fans have been affected by this story. Following your gut, making an unbelievable dream come true, so often holds us back in life. We're so scared of getting out of routine, of taking a giant leap of faith….but look at Brian. So many of us have referenced him as our idol and it's not always for his onstage persona. Sometimes, it's the simple fact that nothing is impossible and he's living proof.
3. Going Solo As A Christian Artist.
From a pop "boyband" to a Christian artist? It was unheard of. It was even more unheard of when you weren't completely separated from the mainstream pop life, but Brian wanted to do it, so he did. For Backstreet fans, it was no surprise. Brian's faith has and always will be an integral part of who he is. For Christian artists, it was a little bit of a questionable act. For Brian, it was/is who he is and he entered the Christian music world with grace and proved to the world that you can do whatever you have a passion for. Not only did he set an example of this, but he also inspired some of us to get back to our own faith. It was an unexpected delivery of a much needed personal Christianity boost for many fans and we didn't see it coming. For others, it was inspiring in a "don't let anyone tell you you can't" way.
4. Being Committed To A Family Life.
We live in a world where divorce is more common than marriage, especially in the world of celebrity, but Brian has always made it a point that his family came first. Describing himself as a husband and father before anything, his marriage is coming up on 15 years and he continues to be his son's hero. Being away from home for sometimes more than 200 days out of a year can be disastrous for relationships, but Brian has been a prime example that things can work if you want them to. When you prioritize things and people in your life and stay true to those priorities, you don't have to be just another statistic. We've learned from him that you can work hard and still be the man (or woman) you want to be.
5. Standing Up For Others and For His Own Beliefs.
In the early 2000s, the Backstreet Boys did an article with Rolling Stone. The inside photo spread featured 4/5 of the Boys in a room with (tastefully) naked ladies and Brian on the opposite page in the photo above. When asked why he chose to do so, he simply explained that he didn't feel that it agreed with his morals to partake in shoot with nude women. He didn't knock the other Boys for doing so – it was simply just what he believed. This is a recurring theme in Brian's life as a Backstreet Boy as he has no fear about choosing what is right for him, no matter what others think. We were even more wowed by him when he took part in a gay pride parade with the other Boys and faced backlash from some in the Christian music world. He lets no one or nothing else shape who he is and it may be what he admire most. For years, fans have found inspiration in him in their own lives for doing exactly that.
6. His Vocal Uprising.
Most recently, Brian proven himself to be more amazing than we ever imagined before. For a few years, fans had noticed a decline in his vocals and we finally received an answer as to what was going on in the BSB movie earlier this year. Being diagnosed with Muscle Tension Dysphonia, Brian has worked long and hard to repair the "damage" that has been done. After you read this post by our affiliates at The Dark Side, you might better understand why we are not only inspired by him this time, but why he's become sort of our hero.
More than anything, out of this situation, we have been inspired to believe that just because life throws you curveballs, your life as you know it isn't over. As Brian said in the Backstreet Boys 2015 documentary, "You have to do it for yourself…". From 2013-2015, we have watched him make huge progressions in terms of his vocals and he continues to be living proof that being strong, having patience, and never giving up on yourself  yields results. Brian sharing his life and his struggles with us has helped more people than he knows in so many ways. While he may have had a hard time coming out with it, we have done nothing but become more inspired.
7. Tweets Of Wisdom.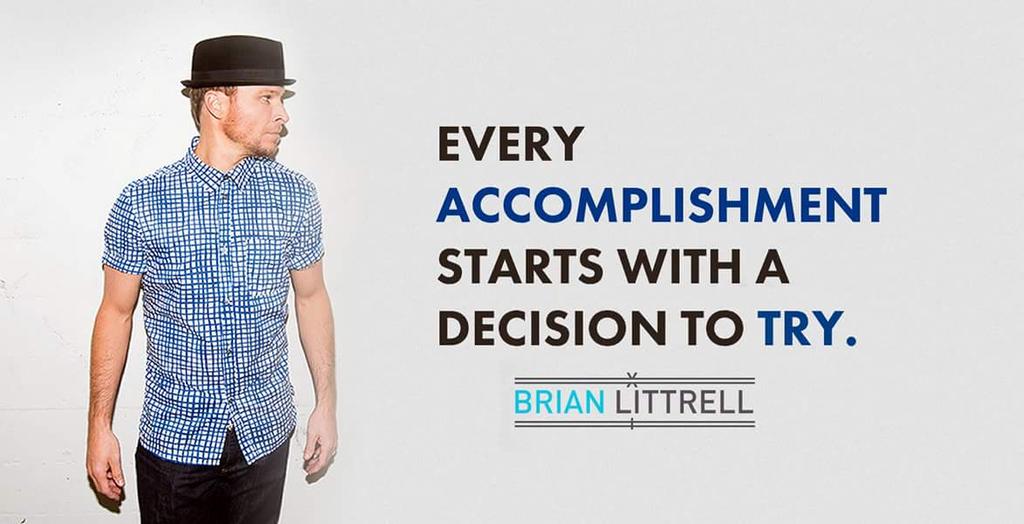 Last but not least, when it's not Brian's actions, it's his words. He has shared words of inspirations in interviews and songs, but nothing has meant to more to us than when he tweets fans who are looking for a little motivation, inspiration, and love when the world is looking down. He seems to have the right words and the right time and it comes from the heart. Thank you, Brian, for being a sincere human because it's hard to come by these days. He will never know just how your words have changed lives and the light that he is.
A fighter and conquerer in every sense of the word, Brian Littrell continues to be an inspiration for people across the world and we hope that he continues to share his gifts, his love, and his incredible story with the planet.