Everyone knows that AJ McLean has a knack for making fans feel right at home when you meet him with his natural gift for gab and his kind heart. The more we thought about it though, AJ is everything we want in our best friends!
1. Not Sure What To Wear? AJ Can Help.
Sure, AJ's had some outrageous fashion in the past, but he also knows what to wear to make an entrance (and in his defense, he never wore a manskirt). If you don't know what to wear to a party or a date, we have a feeling that AJ would be pretty awesome help in letting you know what's hot and what's not. We also wouldn't mind raiding his closet. Let's face it – sometimes we're not sure if AJ's clothes belong to a man or a woman, but damn, we want it!
2. He Can Totally Go With You To Get Your Nails Done.
AJ has never made any bones about the fact that he gets his nails done on the regular, and we don't just mean regular black polish. Dude has nail art like WOAH and sometimes makes us want to hide our own chipped nails in shame. We'd like his opinion on what we should do with ours, plus you wouldn't hurt for someone to chat with for an hour or two. 2-for-1 deal!
3. Don't Feel Like Going Out? FRIENDS MARATHON!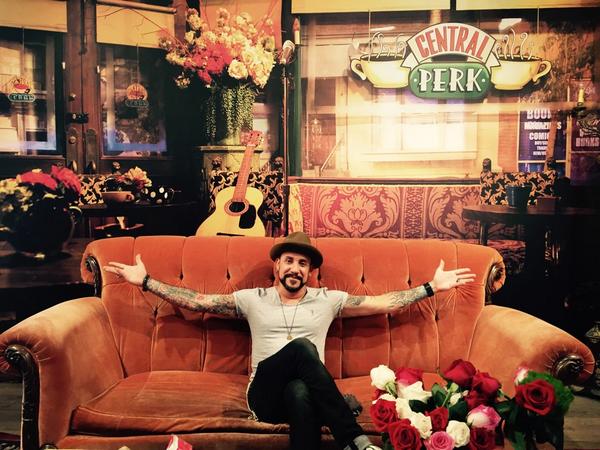 It's a well known fact that AJ is a HUGE Friends fan, even going as far to tattoo himself in honor of the TV show. It just so happens that many of us are Friends fans as well and would very likely PAY to sit with AJ and have a marathon. Does HE think Ross and Rachel were on a break? Does he think Monica should have ended up with Richard? So many questions we have for him! It would be the perfect excuse not to go out and AJ would be down.
4. His Parties Are The Bomb. 
I mean, have you ever seen such a cool baby shower? A few close friends all dressed as babies (including Kevin)? The idea is a brilliant one and we wish like hell that our girlfriends were all having baby showers like this! We're pretty sure AJ would be the perfect friend to host any party you might be having.The fun doesn't stop there either. We've learned that Joe McIntyre from NKOTB drops in for breakfast with his family on Christmas and that Joe Maganello (!!!) has had dinner in the McLean kitchen. Everyone wants to hang.
5. He's Friends With Everyone.
Not only is he close friends with people like Kathy Griffin and Lance Bass, AJ has proven to be friends with a wide range of people and we're not sure if he's ever met a stranger, to be honest. That being said, he'd be the perfect person to ease you into a conversation with someone you'd like to know (especially if you're single). He'd also be a great person to have on hand if you just needed something basic, like a plumber… because he probably knows one. And who doesn't need a friend like that in their life?
6. He's A Kind Soul…Who Can Kick Some Ass.
Let's be real, AJ could be a girl's best friend but he is still a man… and a very badass man. We have a feeling he's very protective of the women in his life and that may prove to be the hottest thing about him. Someone messes with you and/or breaks your heart? AJ might break their faces. Or he might just eat ice cream and watch Friends with you. Either way, he'd be the perfect partner in crime.