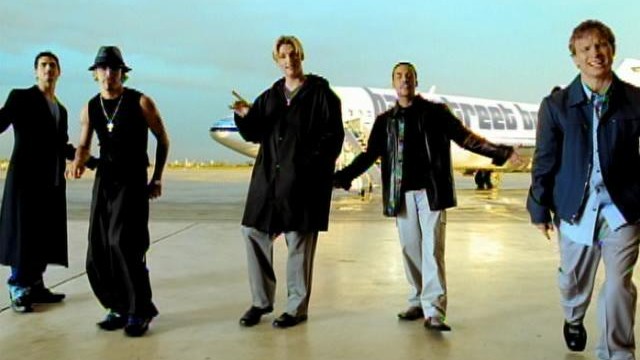 It's been 16 years since "I Want It That Way" was released and things were never the same.
In 1999, the Backstreet Boys were riding high. They could have released a recording of them singing the alphabet and it would have gone straight to the top, but in true Backstreet fashion, they released the big dog AKA I Want It That Way. The song (a Max Martin creation, of course) went straight to the top as well as Millennium, arguably the greatest album of the 90s… or ever.
As time rolled on, people started to think about the song and everyone suddenly realized, that no one could tell you what the song was about. The Backstreet Boys themselves can not even tell you what this song means and trying to solve the enigma that is "I Want It That Way" will make your brain explode.
So, we started to get a little basic. People simply wanted to know:
Did Anyone Ever Tell The Backstreet Boys Why?
And the answer is… No. Because what exactly were they asking why about? We know it "ain't nothin' but a heartache", "ain't nothin' but a mistake", but they are literally asking US to tell THEM why they never want to hear us say I Want It That Way. And boys say girls are confusing! "I Want It That Way" is actually the 3AM call from your drunk boyfriend that you had an argument with, but you actually really love him and are with 16 years and 4 children later. The song confuses you, but you're never going to turn it down.
So, Backstreet Boys, we have a few "Tell Me Whys" of our own:
Tell Me Why… I Want It That Way has anything to do with an airport.
Tell Me Why… We can't fly to Backstreet Boys concerts on that plane.
Tell Me Why… Backstreet Boys no longer perform for fans on the tarmac.
Tell Me Why… Everyone but AJ looked really cold in the video.
Tell Me Why… the Backstreet Boys all look hotter now than they did in 1999 (And where is this fountain of youth?)
Tell Me Why… Brian always wants us to sing the last line of his first part when it's live.
Tell Me Why… We might skip the song when we're playing the CD, but we act like fools when we hear it in public.
Tell Me Why… You never want to hear us say we want it that way.
Tell Me Why… We still don't what way the Backstreet Boys don't want it.
Tell Me Why… The Backstreet Boys need US to figure it out. YOU tell US why, Boys. Damn.
Regardless, "I Want It That Way" has been one of the only songs performed on every Backstreet Boys tour since it was released. Brian always asks us to sing along and pretends that he sees someone waving. Nick always gets really intense about it, like it really DOES mean something. AJ will always make the song seem kinda sexy and go off to do his own little dance. Kevin will always get really into it, and Howie will always cover for Kevin when he's not there.
And we will ALWAYS sing along.
Happy Sweet 16, I Want It That Way, you iconic song! We'll see you next tour.
The Millennium Tour
The Black And Blue Tour
The Never Gone Tour
The Unbreakable Tour
This Is Us Tour
The NKOTBSB Tour
In A World Like This Tour