That's right, ladies and gentlemen, we made it it's been a whole year since Nick Carter was officially taken off the market by marrying the beautiful Lauren Kitt. Unlike most couples in the first year, they've had to work through a half leg of a Backstreet tour, a whole tour with Nick & Knight, and their own reality show, I Heart Nick Carter, and the recording of a new solo album. We're tired just thinking about it, but these two are a power couple and that's just one of the reasons we love them! Here are a few more.. 
1. The Couple That Works Out Together… 
It's no secret that working out and keeping fit (#KittFit, actually) has been a huge staple in the Carters' relationship from the beginning. Finding a common goal in living a healthier lifestyle may be what keeps the couple so grounded. They hold each other accountable, not just for keeping fit but for living more positively in every aspect and it shows.
2. Their Support For Each Other. 
While it's common to see Lauren on tour with Nick at various times, what you may not always see is the way that Nick supports Lauren in any of her endeavors. Whether it be WBFF competitions, her KittFit workouts, or protesting against GMOs, Nick is front and center as her biggest fan. The man even has an photo album on his site dedicated to her with words that express his love for what she has accomplished and there is nothing hotter than a man proud of his woman. Let's not forget either, that Lauren, while she may not be the biggest fan of the Backstreet Boys music, sacrifices time for herself to spend time on the road with her husband. If that's not love, we don't know what is!
3. I Heart Nick Carter.
Being a couple planning a wedding is hard. Being a celebrity couple planning a wedding is even harder. Being a celebrity couple planning a wedding on TV while your husband-to-be is on tour is probably the hardest thing you can think of, yet Lauren and Nick let cameras in for their ride to the altar. Last year, we had a front row seat to all of the ups and downs of being famous and planning a wedding – the highs and the lows. We were all so appreciative of the fact that they decided to share their lives with us and seeing their journey only made us love them more.
4. They Share A Nerdy Kind Of Love. 
While Nick has repeatedly confessed that his attraction to Lauren came partly from her love of playing video games with him, we got an actual glimpse of how real that statement was on I Heart Nick Carter. The couple that plays together, stays together and these two do just that. From having favorite Mortal Kombat characters to jumping into their living room with fake swords in full on character, we think it's adorable! Even better? That time Lauren called Nick out on twitter for being "such a LARP" (live action role player – we'll save you the Google time) after he invited fans to play WoW with him. We love a couple that keeps it real!
5. Their Engagement Story. 
We've all heard the story of Nick's proposal and we love that it wasn't perfect, but that it was. The best marriage proposals are always the ones that have a story and what better than a nervous man, a broken boat, a crappy day, all culminating in an engagement. The fact that she thought there was no way he was going to do it and by the time he did, he just wanted her to "just take it" warms our hearts in the oddest way. They're such a REAL couple, y'all. We couldn't be happier that she said yes. And the whole Engagement Island thing? Oh my. Melt.
7. Those Eyebrows.
Let's be completely superficial for just a minute – Lauren and Nick have the most incredible eyebrows of any couple ever. We are jealous. That is all.
8. Their Pet Family.
Where Nick and Lauren are, so are their fur babies. Nacho and Igby are an essential part of the Carter family and were even in their wedding! Also joining the family is a hairless cat that has changed names like the weather but is none the less well loved. Oh, and the newest addition, a cat with hair named Stormy! If the love they have for their pets is an indication of the kind of parents (to human children) that Nick and Lauren will be, those babies will be so lucky!
9. They Tell It Like It Is.
Nick and Lauren are sweet and loving people, but they are also very real and quick to call you out on any BS… and we LOVE it. Since they have been together, the couple has endured a good amount of nasty online (and real life) hate and they have been quick to call people out on it. While Lauren is quick to come back with disproving facts about what people have said or call people out on their jealous, Nick is quick to come to her defense against haters. Not only are they real against haters, they're real with each other… and it's pretty hilarious. Who realized Nick resembled E.T. Before Lauren pointed it out?!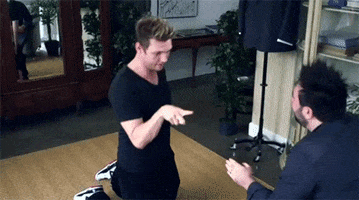 10. The Happily Ever After.
Maybe the biggest reason we love Nick and Lauren is because of how they love each other, because of how they bring out the best in each other, and because of their determination to be successful at this marriage and not just another statistic. They believe in the happily ever after and we're rooting for them all the way..because how could you not?
❤ Happy 1st Anniversary, Mr. and Mrs. Carter ❤