A month ago, a peculiar thing popped up online and we were slow to believe that it was real. The Backstreet Boys? At a beauty convention? Soon enough, it was confirmed by none other than Nick Carter himself. This past weekend (March 22), Nick, Howie and AJ showed up in Chicago at a beauty convention exclusive to those in the industry and HERE is what we found out.
1. Nick and Howie are SURPRISINGLY in their element with beauty products. 
While Howie was not picture putting on anyone's makeup, Nick was. We're not sure if we'd risk losing an eye to test out his technique, but if you're going to get your eye poked out, this seems like the way to go. We were so sorry to hear that AJ became sick and was unable to attend last minute. We're sure he would have been a total makeup badass.
2. The Backstreet Boys are investors in Lash Now.
What is Lash Now? It's a Chicago based mascara company that is currently launching their new natural lash extension product. How did the Boys become involved? Read more about that HERE. The Boys were given the product for their wives to use but who are we kidding…AJ, Nick, and Howie seem to all have particularly luscious lashes lately. They obviously showed up to swipe some more. We're no fools!
If you are interested in trying the product out yourself, go HERE.
3. A Confirmation That There Will Be A Backstreet Tour 2016?!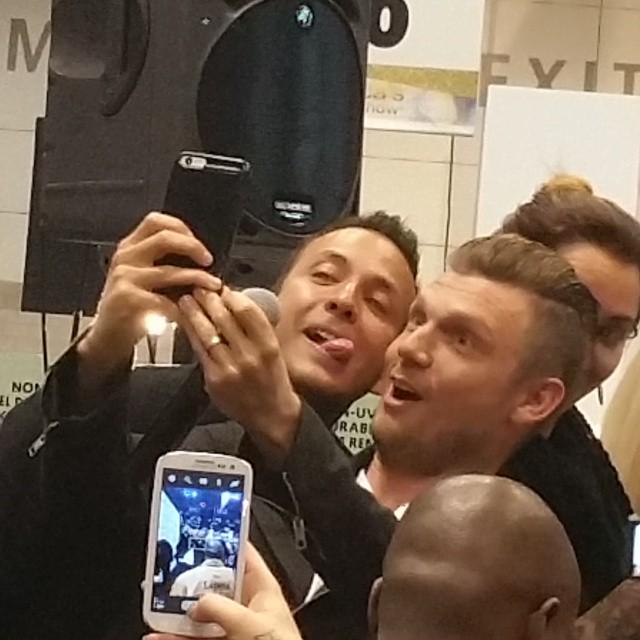 You heard us right! We know that the Backstreet Boys have been saying in numerous interviews that they will be back in the studio this year, but how often do we get confirmation this easily?! What are we talking about? Click HERE to find out! Start saving now, everyone – Backstreet is coming BACK.
For more photos from this weekend posted by LASH NOW, click HERE.